Medical Dermatology
Get Accurate Diagnosis and Effective Treatment in St. Petersburg, St. Pete Beach (South Pasadena), and Tampa Bay
The Nelson Dermatology team is here to care for you and your skin. Our medical dermatology practice works in St. Petersburg and St. Pete Beach to help women, men, teens, and children dealing with both acute and chronic skin conditions. Our experienced, compassionate, and board-certified dermatologists diagnose, manage, and treat all diseases of the skin, as well as those that impact the hair, nails, and mucous membranes.
Living in Florida, our skin is exposed to the harsh elements and sun every day. Our practice particularly focuses on the diagnosis and management of all types of skin cancer, including performing Mohs surgery by an American College of Mohs Surgery-certified physician. But that is not all that we do. Our board-certified dermatologists help patients with acne, rosacea, eczema, psoriasis, birthmarks, cysts, rashes, and other skin conditions. Our team will use cutting-edge treatments to either resolve your problems or help you improve and control your skin condition.
Most importantly, at Nelson Dermatology, you will see a board-certified dermatologist physician. We do not use physician extenders—such as nurse practitioners or physician assistants—because we believe that our patients deserve the best. So rest assured when you make your appointment with Nelson Dermatology, the doctor will see you now.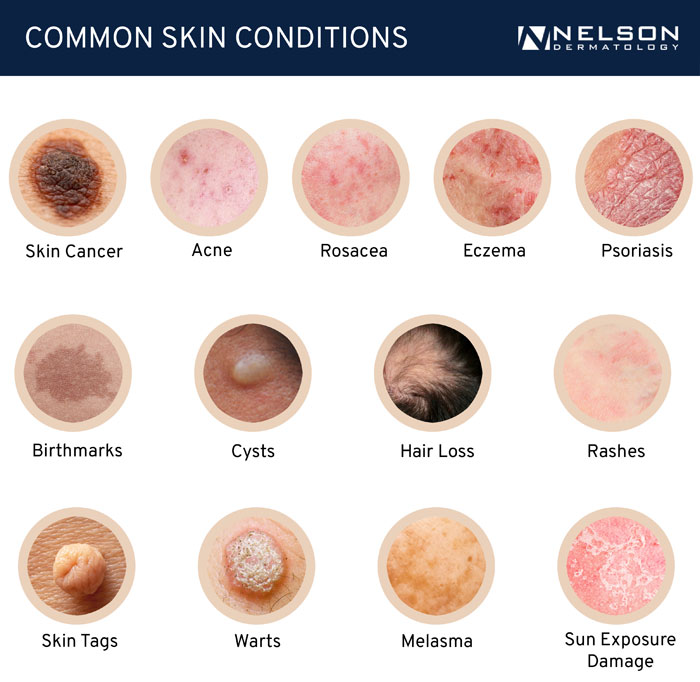 Skin Cancer
With approximately one-fifth of all Americans expected to develop skin cancer at some point in life—and considering that the disease can be disfiguring and even fatal if left undiagnosed and untreated—we focus not only on diagnosis and treatment, but on prevention via proper sun avoidance and sunscreen use in the sunny state of Florida. For patients who do develop skin cancer, the team at Nelson Dermatology specializes in its treatment. Dr. Andrew Nelson is an American College of Mohs Surgery-certified Mohs surgeon, focusing on removing your cancer with the highest possible cure rate and the minimal amount of skin removed, helping you to achieve the best possible outcome. He has performed the extremely effective medical dermatology procedure thousands of times in his career and has trained at some of the most well-known hospitals in the country, including Johns Hopkins, Harvard, and UCLA. You will be in good hands at Nelson Dermatology.
Acne
From non-inflammatory comedones (whiteheads and blackheads) to annoying pimples to painful and scarring nodules and cysts, acne is a common medical dermatology condition. We have treatments to clear breakouts, reduce inflammation, and kill acne-causing bacteria, as well as strategies for keeping pores open to minimize the future development of spots and bumps. We can also address and improve acne scars.
Rosacea
More than frequent blushing, rosacea is a chronic medical dermatology condition that can cause the skin to thicken and develop acne-like bumps. In fact, many people call rosacea "adult acne," but it can also cause the eyes to appear red and feel irritated. While there is no cure for the underlying condition, at Nelson Dermatology, we offer many treatment options for patients who want to reduce the breakouts, improve the redness, and mitigate flare-ups.
Eczema
Inflamed skin that is chronically dry and itchy can be due to eczema, the term for any of a number of rash-like medical dermatology conditions. Treatment focuses primarily on relieving the discomfort of these patches, which can drive some people to scratch so hard they create open sores on their skin and open themselves up to infections. Moisturizing and other healthy skin practices, as well as identifying triggers to avoid, may be an effective long-term strategy for managing this chronic problem. But when those steps aren't working, the team at Nelson Dermatology can help by offering many different topical treatment options, as well as newer biologic options such as dupilumab (Dupixent).
Psoriasis
Thick, scaly plaques that form due to overactive skin cell production are a sign of the chronic condition known as psoriasis. Flare-ups can be limited to small patches on the elbows, knees, and scalp or visibly larger and potentially painful areas elsewhere on the body. As with other chronic conditions, the goal is reducing symptoms and managing known triggers to keep flare-ups to a minimum.
More Dermatological Conditions
At Nelson Dermatology, we also diagnose, manage, and treat birthmarks, cysts, hair loss, rashes, skin tags, warts, melasma, and sun exposure and damage. If you have a question or concern related to your skin health, we can provide answers.