Mohs Surgery
Minimize Surgical Trauma and Maximize Cure Rates when Treating Skin Cancer in St. Petersburg, St. Pete Beach (South Pasadena), and Tampa Bay
Nelson Dermatology is pleased to offer Mohs surgery in our St. Petersburg and South Pasadena offices, serving St. Pete Beach, all of Tampa Bay, and beyond. The highly effective treatment is often an ideal solution for patients who have a skin cancer diagnosis. The advanced procedure involves our American College of Mohs Surgery (ACMS) certified Mohs surgeon, Dr. Andrew Nelson, removing thin layers of tissue in the treatment area, then using a microscope to meticulously examine each layer for malignant cells. This repeats until no cancer is detected, indicating that all of the malignant cells have been removed.
Because cancer can extend beyond a tumor's visible portion, it is vital to not just remove the tumor itself, but also its difficult-to-detect roots. If these roots are left intact, the remaining malignant cells can multiply until the cancer recurs. Mohs surgery employs a methodical, precision-driven process to remove these roots, resulting in the highest cure rate of any skin cancer treatment option available— while leaving the maximum amount of surrounding healthy skin untouched. Once the cancer is removed, the resulting surgical defect will then be repaired, resulting in a beautiful cosmetic outcome as well. The entire process is completed in a single outpatient visit, making it efficient as well as effective.
Advantages of Mohs Surgery
There are many different options for treating carcinomas and melanomas, but only Mohs surgery involves a Mohs surgeon creating in-office frozen histopathology specimens and performing a microscopic slide examination of the skin right away. During your Mohs surgery, the Mohs surgeon will personally examine 100 percent of the surgical margin (the edges of the skin) removed during the procedure. This microscopic examination is how we are able to be certain the cancer has been removed, and how we are able to achieve the highest cure rate for skin cancer removal.
A standard excision, such as by a plastic surgeon or general surgeon, does not involve the surgeon themselves examining the tissue under a microscope as soon as it is removed. When there is a delay and the tissue is examined later by an outside physician or pathologist, typically only a portion of the surgical margin—sometimes as little as 1 percent—is seen.
The fact that the Mohs surgeon will personally examine the entire surgical margin of the skin removed is why Mohs surgery has an approximately 99 percent cure rate, significantly higher than for standard excision and other treatment options for skin cancer, according to studies. In fact, it has the highest cure rate of any skin cancer treatment.
Mohs surgery also removes the least amount of skin necessary to treat the cancer, so it results in the smallest possible wound, which helps us achieve the best cosmetic outcomes as well.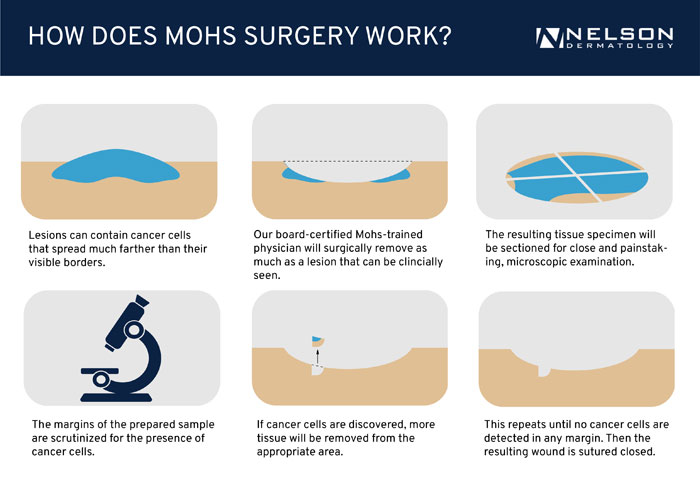 How Is My Wound Handled After Mohs Surgery?
Once all of the cancer cells are removed via Mohs surgery, Dr. Nelson will then discuss options for reconstruction—including suturing the wound and natural wound healing—to achieve the best cosmetic outcome possible. Each patient's reconstruction details will depend on the specifics of the cancer, including its location, size, and more.
The Nelson Dermatology team's specialization in skin cancer treatment extends to reconstruction as well. Dr. Nelson, in particular, trained at Johns Hopkins, Harvard, and UCLA, and can perform any necessary reconstruction, including small linear (straight line) closures through the most complicated skin flaps and skin grafts. He personally handles more than 1,400 closures after Mohs surgery each year, with more than 10,000 total cases completed in his career thus far. You can rest comfortably knowing your wound will be repaired personally by Dr. Nelson in our office, not delegated out to a physician extender or other provider.
Dr. Nelson specializes in face reconstruction that involves noses, ears, lips, and more after cancer removal. Quality training and more experience means his cosmetic outcomes after Mohs surgery are as good—if not better than—any plastic surgeon in the area. This is not surprising, since plastic and other surgeons may focus on tummy tucks and nose jobs or other procedures, only performing skin cancer reconstructions a handful of times each year.
Because the cancer removal and reconstruction is handled in a single day, many patients also find Mohs surgery to be an efficient treatment.
Who Is an Ideal Patient for Mohs Surgery?
While Mohs surgery is effective on a range of skin cancers, it is especially useful when the tumor is in a cosmetically sensitive area, such as the face, ears, nose, hands, or lower legs. It is also ideal for patients whose cancer has recurred despite previous treatments, is particularly large, or is growing rapidly. Because it works in such precise layers, it also works well on cancers with indistinct or poorly defined edges.
Mohs surgery typically works well on basal cell and squamous cell carcinomas. It can also work on other, rarer types of skin cancer, depending on their stage.
Meet our
Doctors
Get to know our board-certified dermatologists serving St. Petersburg, St. Pete Beach and all of the Tampa Bay area.





What Is the Mohs Surgery Process at Tampa Bay's Nelson Dermatology?
Prior to your Mohs surgery appointment, take all of your normal medications, including Aspirin, Coumadin, and/or Plavix—unless specifically instructed not to do so by our office.
Because Mohs surgery limits tissue removal to the smallest amount necessary, this is not a particularly lengthy or involved procedure. Plan to spend about two to three hours—possibly longer—in the office for your surgery. Many patients bring a book, newspaper, laptop computer, phone, or something similar for entertainment to help pass the time. Some patients also bring a small snack to enjoy. Dress comfortably in loose clothing, but bring a sweater in case you get cold.
For the Mohs surgery session itself, Dr. Nelson will first identify, examine, and mark the skin cancer and biopsy site. He will then numb the area with a local anesthetic to minimize discomfort.
Once the local anesthetic takes effect, Dr. Nelson will surgically remove the tumor, taking care to be as thorough as possible—removing a thin layer of presumably healthy tissue from around the malignant growth. The excised tissue will then be frozen and stained so it can be examined under a microscope. This step can take about half an hour.
If Dr. Nelson observes any remaining skin cancer cells under the microscope, he will surgically remove the affected area in that exact location. Slides will again be made and examined with a microscope.
If Dr. Nelson observes any remaining cancer cells during this next microscopic examination, he will remove another layer of tissue, taking care to work in the direction any malignant cells are spotted. The slide preparation step will repeat again, followed by another close examination.
This process continues until all of the cancer cells are removed, while sparing as much healthy tissue as possible. This process may require a few hours. Once all of the skin cancer cells are removed, Dr. Nelson will then discuss the options for reconstruction as necessary—including suturing (stitching) the wound and natural wound healing—to ensure the best cosmetic outcome.
You may need someone to pick you up from our office when the procedure is completed.
Learn the Facts About Mohs Surgery at Nelson Dermatology
Who Performs Mohs Surgery?
Mohs surgery is performed strictly by dermatologists. However, not all physicians performing Mohs surgery are certified by the American College of Mohs Surgery (ACMS). There are physicians who perform Mohs surgery without any formal fellowship training, or who have simply completed a weekend course, but these physicians are not certified by the ACMS and have not undergone the rigorous, extensive training required for certification.
In order to become certified by the ACMS, a physician must complete a dermatology residency, as well as an additional one to two years of specialty training in Mohs surgery and surgical reconstruction.
Dr. Andrew Nelson completed his dermatology residency at Harvard Medical School, and then studied Mohs surgery and surgical reconstruction at UCLA. He is certified by the ACMS and has performed thousands of Mohs surgeries.
No matter who you choose to perform your Mohs surgery, make sure to ask if they are certified by the ACMS. The distinction is in the training and experience.
Is Mohs Surgery Always the Answer?
For patients whose cancer would not respond ideally to Mohs surgery, Dr. Nelson will discuss other treatment options. This may include cases where the cancer is very small and in a non-sensitive area, or—on the other end of the spectrum—has extended so deep that it has impacted muscle or bone, or has extended far beyond its initial site, to other organ systems.
Despite the many treatment options available, prevention is always the best answer. Although genetics can play a role, sun exposure is a major contributing factor to the development of skin cancer. Wearing sunscreen and avoiding direct sunlight during peak hours are excellent ways to lower risk.
Early detection is critical to the success of any treatment, including Mohs surgery. Perform regular monthly skin checks to spot unusual or changing lesions, and schedule annual full-body check-ups with a dermatologist who can help to spot and examine suspicious moles and similar growths.
If Dr. Nelson suspects cancer and confirms the diagnosis with a biopsy, he will walk you through your next options. While facing cancer can be a scary prospect, modern treatments like Mohs surgery have made fighting the disease more effective and efficient than ever before.